Steamed Crabs


How to Pick 'em


Typical MENU


Crab Sex


Locations


Crab Links


Seafood Delivery


Lobster, of course

---

Cookbooks

Recipies


Enjoy the Crabs!


South Baltimore Seafood Recipe...
Maryland Cream of Crab Soup
Do-It-Yourself has never tasted so good as with this creamy and smooth Maryland "favorite" soup. This is not Maryland Crab Soup (which is vegetable based and also delicious). So, you want to make up a pot for weekend guests or just for your family? Here's what it takes...
Ingredients: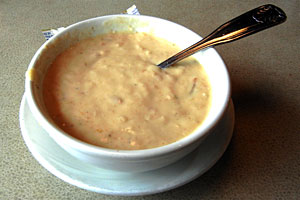 1 quart half and half
1 pint milk
2 pints heavy whipping cream
1 pound Maryland jumbo lump crab meat
1 tablespoon fresh parsley
3 teaspoons Old Bay seasoning
1/4 cup butter
1/2 teaspoon salt
1/8 teaspoon pepper
cornstarch
Directions:

Bring the milk, half and half, and heavy whipping cream to a boil.
Add the crab meat, fresh parsley, Old Bay seasoning, butter, salt, and pepper. If you like spice, you may choose to taste the soup at this point to see if you need to add more Old Bay seasoning.
When the Cream of Crab Soup starts to boil, make a paste of cornstarch and water and gradually add the cornstarch mixture to the soup until it is your desired level of thickness.
Serve in a bowl, or even better, a bread bowl and sprinkle a pinch of old bay on top of the soup and add a sprig of fresh parsley to garnish.
Fun facts about this recipe:
Maryland style crabs are blue crabs, the kind of crab that is found in great quantities in the Chesapeake Bay which is in Maryland and Virginia. The Old Bay seasoning is one other factor that makes this Cream of Crab soup a Maryland Cream of Crab Soup. Old Bay seasoning is a very popular seafood seasoning that was developed by McCormick & Company which is based out of the Baltimore, Maryland area.
Tips:
Buy:
Don't always have time to make your own?
Pick up some already made Cream of Crab Soup from your local market or even from Amazon.
---
*Note, please, that seafood and other products are not actually "sold" on this site - SouthBaltimore.com. This resource is provided solely as a convenient tool for our Maryland seafood-loving readers and does not specifically recommend or endorse any particular product(s) or merchant(s). If you do order products after clicking through to a product supplier we may be compensated with a small commission. Don't worry that you may pay more by clicking here - any such commissions are paid by the vendor(s).