Steamed Crabs


How to Pick 'em


Typical MENU


Crab Sex


Locations


Crab Links


Seafood Delivery


Lobster, of course

---

Cookbooks

Recipies


Enjoy the Crabs!


South Baltimore Seafood Recipe...
Maryland Crab Soup
Do-It-Yourself has never tasted so good as with this vegetable-based "Maryland" favorite soup. This is not the Cream of Crab (which is also delicious). So, you want to cook up a pot for the weekend? Here's what it takes...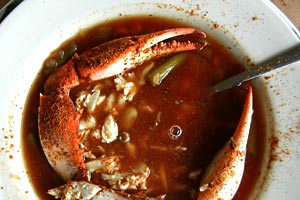 Ingredients:
1 doz well seasoned Maryland Steamed Crabs

3 lbs mixed frozen vegetables

2 lbs frozen corn

2 lbs frozen string beans

bay leaves

Old bay Seasoning

Oregano

1 16 oz can tomato sauce

A few cans tomato paste

1 lb fresh bacon

Sea salt
Directions:

Place the crabs in a large pot

Add enough water to completely cover the crabs.

Bring the water to a boil and boil the crabs for 15 to 20 minutes. You will know when they are done because they will be bright orange.

While the crabs are boiling, cut the bacon into 1 inch pieces and cook in a separate pan.

When the crabs are done, remove the crabs from the pot and place them aside to cool. Tip: They will cool faster if you go ahead and break them open.

Add the tomato sauce and 3 cans of water to the pot.

Add the frozen mixed vegetable, frozen corn, and frozen string beans to the pot.

Toss in the Old Bay Seasoning, a couple of bay leaves, and a couple of dashes of oregano.

Add the crabs back to the pot and add the bacon as well.

Simmer on low for 2 to 3 hours.

Add the tomato paste to the soup to help thicken it up some. How much you will need depends on how think you like it. It should not be very thick, but you definitely want it to be a little thicker than water.

Add the potatoes to the soup and let it cook until the potatoes are soft.

Taste the soup and add more Old Bay Seasoning and sea salt to taste.

Ladle into bowl and enjoy!
Variations:
If you want to save your family, friends, guests, the trouble, do not add the whole crabs back into the soup at step 9. You will want to pick the crab meat out of the crabs first and add just the crab meat.

If picking the crab meat out of the crabs is too much trouble, then you can certainly buy tubs of crab meat by the pound at a grocery store or market, but beware, it won't taste as good!
Tips:
Buy:
Don't always have time to make your own?
Pick up some already made Crab Soup from your local market or even from Amazon.
---
*Note, please, that seafood and other products are not actually "sold" on this site - SouthBaltimore.com. This resource is provided solely as a convenient tool for our Maryland seafood-loving readers and does not specifically recommend or endorse any particular product(s) or merchant(s). If you do order products after clicking through to a product supplier we may be compensated with a small commission. Don't worry that you may pay more by clicking here - any such commissions are paid by the vendor(s).