Steamed Crabs


How to Pick 'em


Typical MENU


Crab Sex


Locations


Crab Links


Seafood Delivery


Lobster, of course

---

Cookbooks

Recipies


Enjoy the Crabs!


South Baltimore Seafood Recipe...
Maryland Crab Cakes
Do-It-Yourself has never tasted so good as with these crab cakes, or crabcakes, if you will. This is a stand-alone favorite - can be served with crackers, on a roll or all by itself. So, you want to fix up a few for dinner or lunch? Here's what it takes...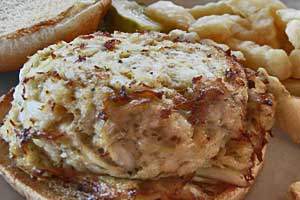 Ingredients:
2 slices white bread
2 tbsp mayonnaise
2 tsp Old Bay seasoning
2 tsp parsley
½ tsp yellow mustard
1 egg
1 lb crab meat
Directions:
Start out by turning your broiler on to med-high.
Remove the crust off the bread and either eat it, give it to the dog, or throw it away.
Break the bread into small pieces and set it aside.
In a bowl, mix the mayonnaise, Old Bay, parsley, mustard, and egg (beat the egg first) in med size bowl.
Add the crab meat to the mayonnaise mixture. Note: If you use packaged crab meat, be sure to pick through it to look for hidden shells!
Now add the bread to the mayonnaise mixture.
Forget the spoon! Use your hands to mix everything together being very careful not to break up the lumps of crab meat.
Form the crab cakes into patties that fit in your hand and place them on a baking sheet or tray.
Broil your Maryland Crab Cakes for 10 min or until brown.
Serve with crackers or on a roll.
Variations:
Try using Italian Seasoning instead of parsley! Mmmmmmm!
If you want to spice things up, add a little extra Old Bay Seasoning.
Try adding a dash of hot sauce to give your Maryland Crab Cakes a little kick.
The BEST Maryland Crab Cakes are made with fresh hand-picked crab meat so go get some crabs and get to pickin'!
Some people like to put tarter or cocktail sauce on their crab cakes, but many Baltimoreans like to use a touch of yellow mustard.
Buy Some:
Don't always have time to make your own crabcakes?
Order some already made - and maybe keep some in your freezer - for when you get the "taste" for Maryland Crab.
Here's the link: Buy Crab Cakes Online Today.
---
*Note, please, that seafood and other products are not actually "sold" on this site - SouthBaltimore.com. This resource is provided solely as a convenient tool for our Maryland seafood-loving readers and does not specifically recommend or endorse any particular product(s) or merchant(s). If you do order products after clicking through to a product supplier we may be compensated with a small commission. Don't worry that you may pay more by clicking here - any such commissions are paid by the vendor(s).