Steamed Crabs


How to Pick 'em


Typical MENU


Crab Sex


Locations


Crab Links


Seafood Delivery


Lobster, of course

---

Cookbooks

Recipies


Enjoy the Crabs!


South Baltimore Seafood Recipe...
Grilled Corn on the Cob
Do-It-Yourself has never tasted so good as with a selection of Maryland Seafood. A traditional (we believe the best) seafood side is to add corn on the cob. Don't forget to "eat your vegetables." Grilling insead of steaming/boiliing adds a nice dimension. Here's what it takes...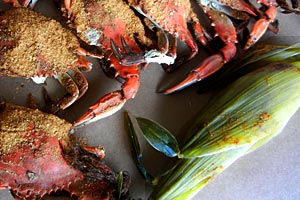 Ingredients:
Corn on the cob - the fresher, the better. Buy it from a local farmer if possible.
Directions:
Husk the corn, cover it in olive oil and cook in a separate grill pan for about 20 minutes until the corn is tender.
Variations:
To make your grilled cornn on the cob even better…in a bowl large enough to hold the corn and be able to mix it around (such as a large flat pasta bowl), melt enough butter to cover the corn and squeeze a lime into the butter. Mix the butter and lime juice together and add a touch of salt. Thrown the corn in the bowl and roll it around and serve!
Enjoy:
Let any leftover (steamed or grilled) corn on the cob stand for later in the evening. Simply cover the ears to keep them from drying out. Cold corn on the cob is sweet and makes a great snack. It doesn't need anything - except maybe a small amount of salt and/or pepper.
---
*Note, please, that seafood and other products are not actually "sold" on this site - SouthBaltimore.com. This resource is provided solely as a convenient tool for our Maryland seafood-loving readers and does not specifically recommend or endorse any particular product(s) or merchant(s). If you do order products after clicking through to a product supplier we may be compensated with a small commission. Don't worry that you may pay more by clicking here - any such commissions are paid by the vendor(s).