Crab Steamers' Favorite Locations...
Baltimore Crab Houses
...finding local seafood at its best...
Of course, a very popular Baltimore crab house is right here in Locust Point:
L.P. Steamers Crab House, (Locust Point Steamers)
A Locust Point Crab House - that's in South Bawlmer, Hon.
1100 E. Fort Avenue, Baltimore, MD 21230
410-576-9294

LP Steamers is on East Fort Avenue directly across from the South Baltimore Little League (SBLL) field. (Map courtesy of MapBlast)

---
But there are several more in the Baltimore area. We have been to some of them, such as...
Nick's Fish House
Also in South Baltimore but on the southern edge of the peninsula - on the north shore of the Middle Branch of the Patapsco River. Free parking if you get there by car or free dockage if by boat.

2600 Insulator Drive, Baltimore, MD 21230
tel: 410-347-4123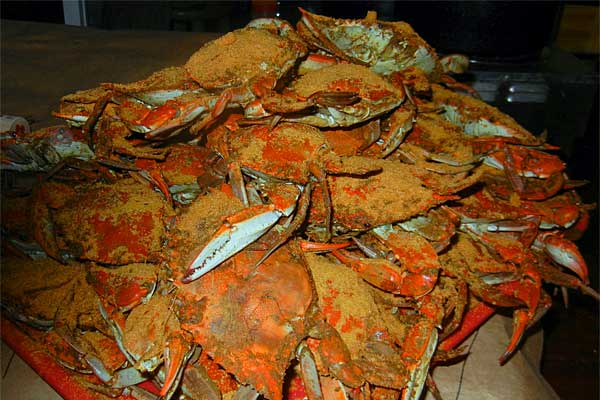 And we've been here on more than one occasion...
The Crackpot Seafood Restaurant
This one is up north in the Towson area, but it is worth the trip if you are not from Towson.
8102 Loch Raven Boulevard, Towson
410-828-1095.
---
Many crab houses are open Sundays and some even have crabs all year. But what if you can't get to a crab house? How about enjoying the "feast" at home?
---
We used to go here - a lot - by boat in the summertime...
Captain James Landing
Located east of the Inner Harbor between Canton and Fells Point - with a crab deck in the summer across the street near the water where you can get crabs and corn on the cob.
2127 Boston Street, Baltimore MD, 21231
Water Taxi Stop #14
Crab House & Carry Out: 410.675.1819 -- Landing Restaurant: 410.327.8600
---
Obrycki's (Crab House) Restaurant & Bar
The downtown (Inner Harbor) crabhouse used to attract thousands of out-of-towners. But that is no longer with us (closed in 2011) - instead you can visit an Obrycki's Restaurant & Bar or just an Obrycki's Bar - when you travel by air - at...
the BWI Thurgood Marshall Airport
410.859.5723 and 410.859.1220
---
*Note, please, that seafood and other products are not actually "sold" on this site - SouthBaltimore.com. This resource is provided solely as a convenient tool for our Maryland seafood-loving readers and does not specifically recommend or endorse any particular product(s) or merchant(s). If you do order products after clicking through to a product supplier we may be compensated with a small commission. Don't worry that you may pay more by clicking here - any such commissions are paid by the vendor(s).