A Crab Steamers Favorite...
Crabby Links
All you ever wanted to know about Maryland Blue crabs & Steamed Crabs.
Check out these links. They will open in a new screen window so you can return to South Baltimore by closing the "new" window.
Blue Crab dot info - The Blue Crab Archives.
Old Bay - Seafood seasoning - of course.
Blue Crab - Blue Crabs are the most valuable fishery in the Chesapeak Bay - and other "tidbits" of techie information from the National Oceanic and Atmospheric Administration - NOAA.
Callinectes sapidus - This "Savory Beautiful Swimmer" is shown in a variety of cool photographs at the National Geographic website.
Maryland State Crustacean - The Maryland Blue Crab (Callinectes sapidus Rathbun) is officially the Maryland State Crustacean.
How to pick and enjoy steamed crabs - Our very own...Step-by-step instructions with photos.
The Crab Place - Our merchant affiliate is, of course, the best place to buy crabs and related seafood online. However, in addition to selling seafood, thier website also contains recipes and a wealth of information about seafood and related products.
---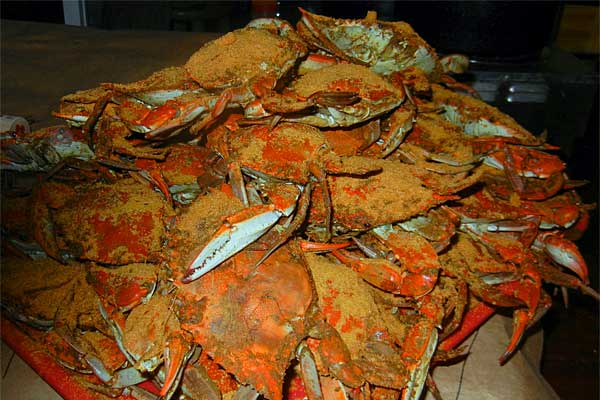 ---
*Note, please, that seafood and other products are not actually "sold" on this site - SouthBaltimore.com. This resource is provided solely as a convenient tool for our Maryland seafood-loving readers and does not specifically recommend or endorse any particular product(s) or merchant(s). If you do order products after clicking through to a product supplier we may be compensated with a small commission. Don't worry that you may pay more by clicking here - any such commissions are paid by the vendor(s).