Steamed Crabs


How to Pick 'em


Typical MENU


Crab Sex


Locations


Crab Links


Seafood Delivery


Lobster, of course

---

Cookbooks

Recipies


Enjoy the Crabs!


A Blue Crab Favorite...
Maryland
Steamed Crabs
Maryland Steamed Crabs and Cold Beer certainly go together and there's no better place to find this great combination than at a "local" South Baltimore crab house such as L. P. Steamers Crab House on Fort Avenue in SOBO's Locust Point. That's a fine go-to place when you get the urge for some good-eatin' seafood from the local waters of the Chesapeake Bay - Blue Crabs in particular. The fun and relaxing atmosphere of a locally owned and managed crab house are filled with an ambiance and friendly spirit that combine to make your crab-picking a pleasure.
A Baltimore Crab House is the place to be for that authentic crab-picking experience - not at a chain restaurant "claiming" Maryland Crab...
...but if you cannot get there you do have alternatives...like having crabs and crabcakes delivered to your door. Give it a try - order something today.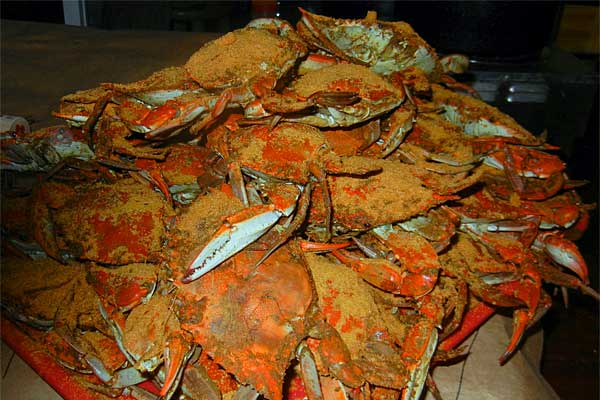 Most crab houses are open seven days a week (some are closed on Sundays so call ahead to check) and some (but not all) have crabs all year 'round. They also have a variety of cold beverages and a lot of other seafood and non-seafood choices to fulfill everyone's appetite. Be sure to visit the page on Picking Crabs and the representative, or sample, Menu Page to see what we get to choose from and enjoy when we "go out for crabs."
---
*Note, please, that seafood and other products are not actually "sold" on this site - SouthBaltimore.com. This resource is provided solely as a convenient tool for our Maryland seafood-loving readers and does not specifically recommend or endorse any particular product(s) or merchant(s). If you do order products after clicking through to a product supplier we may be compensated with a small commission. Don't worry that you may pay more by clicking here - any such commissions are paid by the vendor(s).