Home Page


Area Hotels


So. Baltimore


Inner Harbor


Real Estate


Wine & Dine


Shopping Online

---

Sports Teams

Steamed Crabs


Enjoy the Harbor!



Parking Problem? Get SMART!
Baltimore SMART fortwo (Car)
In Maryland, Smart Cars come from Smart Center Annapolis and Smart Center Germantown

Things to do to help alleviate the parking problems we have in the neighborhoods of Federal Hill, Locust Point, and everywhere in between:
1) Get a car that fits just about anywhere.
2) Make sure your car doesn't take up "too much" space.
3) Consider one of the new Smart Fortwo (yep, for two) cars now being imported and available from your local Annapolis Mercedes Benz dealer in their Smart Center Annapolis, Smart Car Showroom.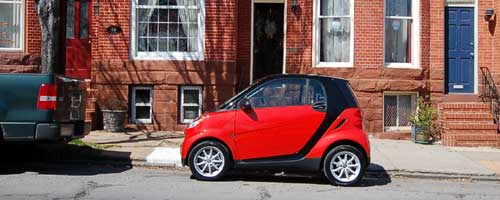 4) Join ZipCar
Your webmaster couldn't resist - wanting and needing a place to park near his house when arriving home in the evening - got smart and bought a SMART Fortwo Passion Coupe. Here is the newest "baby" to join the family: A Smart ForTwo Passion Coupe. Being about three feet (3') shorter than a Mini Cooper, it can park just about anywhere in our neighborhood. We actually looked at, test drove and considered a Mini Cooper. However, we opted instead, to get our new Mini Mercedes. :) Why? Three reasons: 1) Mercedes Benz quality (they have been producing these cars in Germany for years), 2) Nearly three feet shorter than a Mini Cooper, and 3) nearly 10 grand less costly than a Mini Cooper. With that in mind, we didn't even consider the environmental features, like 40 miles per gallon and a car that is almost fully recyclable and is built in a plant that is one of the most environment-friendly manufacturing plants n the world (so, our red car is really a "green" car).
It may be small, but it is built by the folks that build Mercedes Benz, and it is built with safety in mind. The Smart fortwo comes full of standard safety features that are usually found only in luxury automobiles. These include a protective "tridion safety cell", anti-lock brakes (ABS), to help you stop in the shortest possible distance, and an electronic stability program (ESP) that helps keep you on the road. There is also a compliment of four (4) air bags and a computer-controlled traction/braking system that keeps you going in slippery conditions. There is also a factory alarm system available, and of course, Lo-jack as a dealer-installed option.